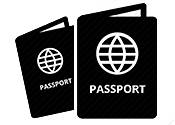 At time of booking, you acknowledge that the laws that regulate the necessary travel documentation are subject to change and that it is your responsibility to be aware of what is required for travel.
All guests are required to carry a valid passport, not expiring within six (6) months of the return of your cruise.
This information could be updated without notice. View the latest information from Norwegian at www.ncl.com/traveldocs.
**Please note that the name on your ticket must match the name on your passport or you will need to provide an original copy of proof of change of name (marriage license, etc).
What if I do not have proper identification?
There is no Jedi Mind Trick around this, you MUST have proper identification to be permitted to board the ship. If you arrive at port without proper identification, while Sixthman will assist you in contacting the appropriate agencies, we cannot guarantee that you can successfully attain proper identification from the port, and this may result in being denied boarding without compensation. And this makes us sad.