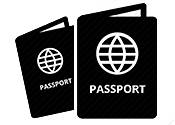 Remember, at time of booking, you acknowledged that the laws that regulate the necessary travel documentation are subject to change and that it is your responsibility to be aware of what is required for travel.
You're required to carry a valid passport, not expiring within six (6) months of the return of your cruise.
Click here to read more about required travel documentation.