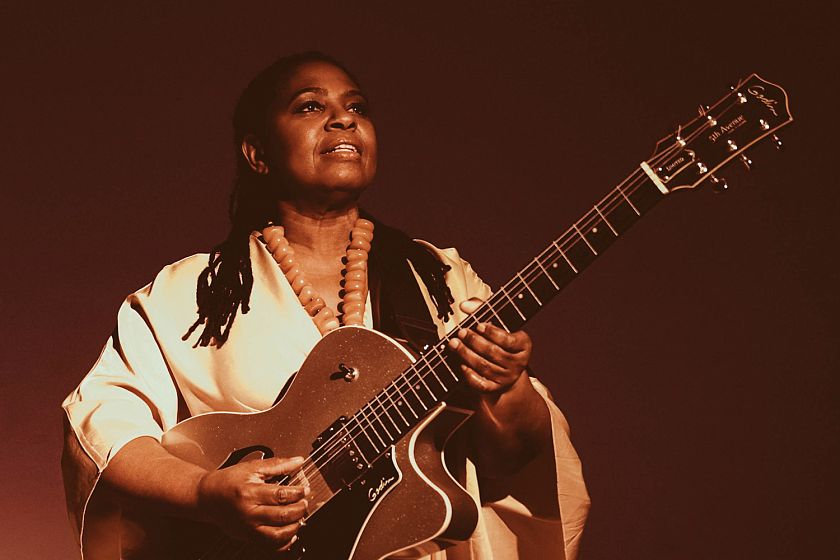 Ruthie Foster
Ruthie Foster
In the tightknit musical community of Austin, Texas, it's tough to get away with posturing. You either bring it, or you don't.

If you do, word gets around. And one day, you find yourself duetting with Bonnie Raitt, or standing onstage with the Allman Brothers at New York's Beacon Theater and trading verses with Susan Tedeschi. You might even wind up getting nominated for a Best Contemporary Blues Album Grammy — four times. And those nominations would be in addition to your seven Blues Music Awards, three Austin Music Awards, the Grand Prix du Disque award from the Académie Charles-Cros in France, a Living Blues Critics' Award for Female Blues Artist of the Year, and the title of an "inspiring American Artist" as a United States Artists 2018 Fellow.

There's only one Austinite with that résumé: Ruthie Foster. The small rural town of Gause, TX had no chance of keeping the vocal powerhouse known as Ruthie Foster to itself. Described by Rolling Stone as "pure magic to watch and hear," her vocal talent was elevated in worship services at her community church. Drawing influence from legendary acts like Mavis Staples and Aretha Franklin, Foster developed a unique sound unable to be contained within a single genre. That uniqueness echoes a common theme in Ruthie's life and career - marching to the beat of her own drum.

Joining the Navy was one way for Ruthie to stake out her own path. It was during her time singing for the Navy band Pride that her love for performing became apparent. Returning to Texas, Ruthie solidified her place as an up-and-coming singer/songwriter and released several studio albums, "Runaway Soul" in 2002, followed by "The Phenomenal Ruthie Foster" in 2007, "The Truth According to Ruthie Foster" in 2009, "Let It Burn" in 2012, "Promise of a Brand New Day" in 2014 and "Joy Comes Back" in 2017. Her live shows, which she has referred to as a "hallelujah time," have been documented on the album "Stages" in 2004 and the CD/DVD release "Ruthie Foster Live at Antone's" in 2011.

Ruthie's latest Grammy nominated album "Live at the Paramount", released in 2020, swings back to the days (and nights) when Lady Ella sang Ellington and Sinatra blasted off with Count Basie and Quincy Jones. Recorded on the night of January 26, 2019 on the 105-year-old stage of Austin's grand-dame Paramount Theater, it features the Ruthie Foster Big Band: a guitarist, keyboardist, bassist and drummer, plus 10 horn players, three backing vocalists and one conductor. As Ruthie wraps her oh-so-malleable, impeccably nuanced voice around each song, the wisdom of her selections, the strength of each arrangement, their near-seamless flow and the outstanding talent of her band converge into yet another reminder that Foster's artistry really is in a league of its own.