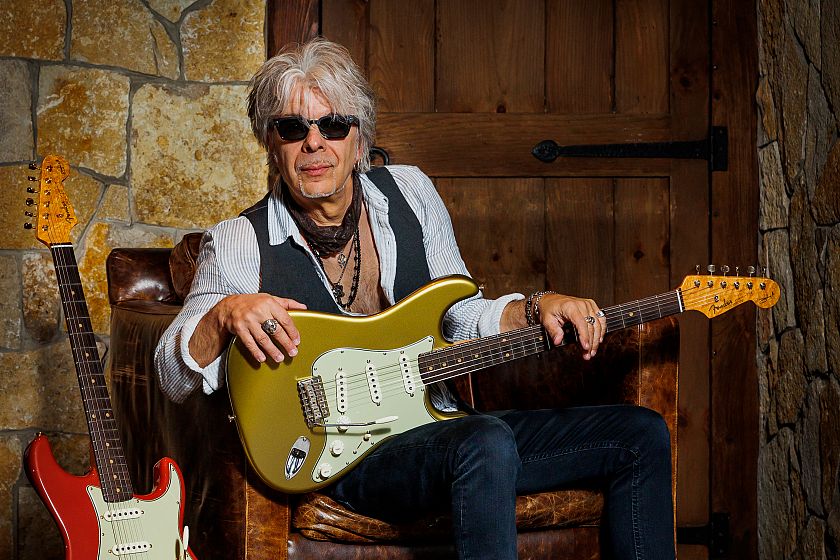 Johnny A.
Johnny A.
Johnny A. is a name synonymous with guitar. From his earliest memories of seeing the Beatles at Suffolk Downs in Boston at the age of 13, then witnessing the god himself, Jimi Hendrix two-years later, a fascination with six-strings illuminated his path forward. His parents bought him a $49 Lafayette Electronics guitar to start hacking away on, but his instrument didn't suffer that long. With a determination and focus that surprised even himself, he quickly advanced from basic chords to the more complex stuff, listening to the British Invasion stars to inform his progress - of course the Beatles, but even more importantly, the Yardbirds with their three now-iconic guitarists from those early years – Eric Clapton, Jeff Beck, and Jimmy Page. The Everly Brothers inspired an appreciation of melody, Wes Montgomery introduced jazz influence, the master picker Chet Aktins brought in country and Americana.
By the 1970s Johnny had formed a band in Boston called the Streets, followed by Hidden Secret and then Hearts on Fire, all of which received generous Boston airplay and established the guitarist as a reliable live act in the city. The fuss drew the attention of fellow musicians including Derek and the Dominos and Delaney & Bonnie keyboardist and singer Bobby Whitlock, who had co-sung nearly all the vocals with Eric Clapton on the Layla and Other Assorted Love Songs album. The two recorded and performed together, Johnny A. serving as Music Director and lead guitarist of Whitlock's 1992 television project Live at the Bottom Line.
After a short time playing alongside Doug Clifford, drummer of Creedence Clearwater Revival, Johnny began an extended musical relationship with former J. Geils Band lead singer Peter Wolf. During the seven years the two worked together, Johnny served as Music Director, rehearsing Wolf's band as well as coordinating the onstage song arrangements, then playing on several tours. He recorded on two of Wolf's albums and co-produced Long Line in 1996.
In 1999 Johnny A. launched his solo career by releasing his independent Sometime Tuesday Morning album and selling the compact disc out of his car trunk at gigs. The album's intoxicating blend of guitar colors and musical styles became a surprise hit. Two years later the album was re-released on Steve Vai's Favored Nations Entertainment label which broke the #1 single "Oh Yeah" across America on the Triple A radio format. The instrumental Sometime Tuesday Morning album would go on to sell over 150,000 copies. Favored Nations released a second album Get Inside in 2004 and after supporting that release with multiple tours, Johnny issued One November Night in 2010. The live DVD/CD set recorded at Sculler's Jazz Club in Boston led to Johnny A. receiving the Boston Music Award's "Blues Artist of the Year 2010" honor.
In June 2014, Johnny released, Driven, marking his engineering debut as well as mixing, producing and playing all the instruments on the album himself. That same year Johnny was inducted into the Boston Music Hall of Fame at the Boston Music Awards.
What goes around, comes around – in 2015, Johnny A. joined the Yardbirds as the legendary British band's lead guitarist. To follow in the footsteps of those three iconic players – Clapton, Beck, and Page in the same group that had inspired him so much as a young player was karma, indeed. He would play with the band for three years.
After his stint in the Yardbirds, Johnny A. developed his "Just Me… And My Guitars" stage show, a complex one-man operation in which the guitarist paid tribute to his British Invasion favorites by looping guitar melodies and rhythm tracks on top of each other to build unique instrumental interpretations completely live and without pre-recorded tracks.
During the Covid 19 lockdown Johnny A. ad-libbed a daily 90-minute morning livestream broadcast from his facebook page facebook.com/JohnnyA.Official – doing more than 300 episodes. During this same time he recorded a 21-song instrumental re-imagining of Beatles' songs and assembled a band working under the title "From A. To Beatles" which has been performing regularly around New England along with "Me and My Guitars" dates.