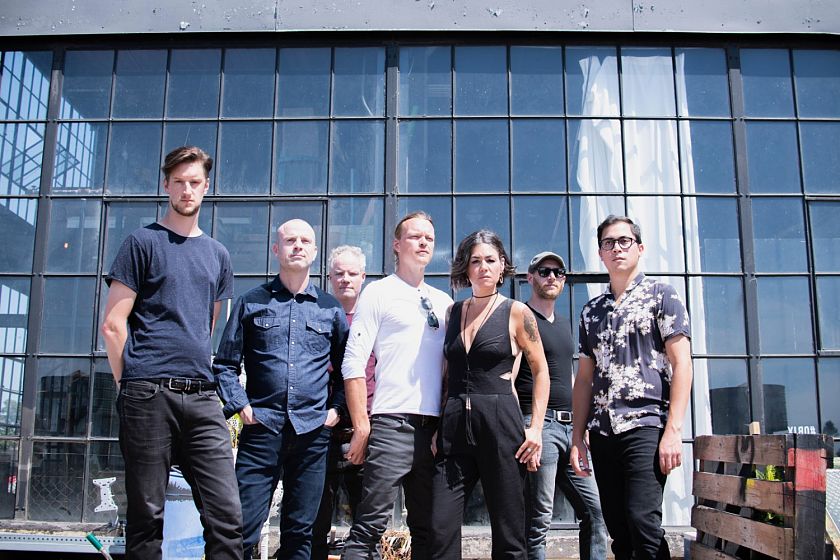 Bywater Call
Bywater Call
Singer Meghan Parnell and guitarist Dave Barnes are the driving force behind Bywater Call, a powerhouse 7-piece Southern Soul, Roots Rock outfit out of Toronto, Canada.
The band's much anticipated sophomore album was released September 2, 2022 to rave reviews.
The release followed an extensive tour of the EU which featured a mainstage appearance at the Netherlands' premiere blues festival MOULIN BLUES.
Performances there have been praised in Dutch and German media, with references to Meghan as one of the best singers in blues and roots today.
Born out of a love for southern soul, blues and roots music and a passion to create a powerful and moving experience for listeners, Bywater Call is completed by Bruce McCarthy on drums, Mike Meusel on Bass, newest member John Kervin on Keys, Stephen Dyte on Trumpet and Julian Nalli on Tenor Sax.
"Remain is sophisticated blues/rock with seriously high production values, high musicianship, and compellingly emotional vocal breaks. Meghan Parnell's voice might be what happens if Susan Tedeschi and Bonny Raitt had a secret Canadian love child and that child grew up to have a ferocious independence and style all her own. While Dave Barnes has certainly learned from the greats of blues/rock and we can hear that influence, he also occupies a space all his own. His slide guitar playing is vibrant and tasteful; it's never too much, always in the pocket, supporting and at exactly the right moments soaring" Rock and Blues Muse.
For those who have been following the band since their inception in 2017, an evolution in sound and concept can be heard with this new chapter. And yet, the core values of raw emotion, strong musicianship and the aim to create an exciting, powerful, and moving experience for listeners remains ever present.
The seeds of this album were planted just prior to the band's leaving for our inaugural 2020 European tour, when they penned the title track REMAIN to take on the road. Many of the tunes that round out the recording were on conceived by Dave and Meghan on their back porch in the idle of the pandemic, armed with an acoustic guitar and desire to grow as writers and musicians.
The album features prominently Parnell's raw, soulful vocal and the emotional singing slide guitar of Dave Barnes. It was produced by Gypsy Soul Records' Renan Yildizdogan and engineered by Ross Hayes Citrullo of RHC Music. The record was laid down over 4 days in Jukasa Studio near Hamilton, with follow up sessions at RHC Studio in Toronto.
"Finding a perfect combination of 'killer studio band' and 'unbelievable live act' doesn't come along too often, but on that rare occasion when the stars are seemingly aligned, serious music fans take notice.... We recently discovered the Toronto-based 7-piece soul-roots band Bywater Call at the Home County Music & Art Festival, and – if we are to be brutally honest here – were not only in complete awe of their music and energy, but were totally blown away by their unrelenting, unabashed live performance..." Great Dark Wonder
"Bywater Call's mix of blues, roots, rock, and soul, plus their masterful musicianship, and the impressive vocal/slide guitar combo of Parnell and Barnes makes for some mighty fine music. Remain is an album that deserves to be heard." BluesBytes, Phoenix
"While the blues and roots scene is full of excellent musicians, good songwriters are a bit harder to come by. However, when both disciplines come together, the results can be spectacular. Such is the case for Bywater Call's incredible sophomore album 'Remain'." Kevy Metal, Kevin Pasman "a new record arrives from Canada by the outfit Bywater Call, and it's stunning.
Remain is an 11-track collection of songs that is brilliantly performed by this seven- piece band.... The vocals are rawer; the slide guitar playing is more languid and
long... From the first track to the last the power presented, even on the slower tracks, is overwhelming. This is a band birthed more out of Lynryd Skynyrd that Allman and songs land punches at every turn." Disciples of Sound.
"With pipes built for power ballads, Meghan Parnell is right at home in the muscular, expansive sound generated by this Ontario-based seven-piece, rhythm-and-horns outfit. Her force and focus are a constant on an all-original set both stylish and soulful." Roots Music Report