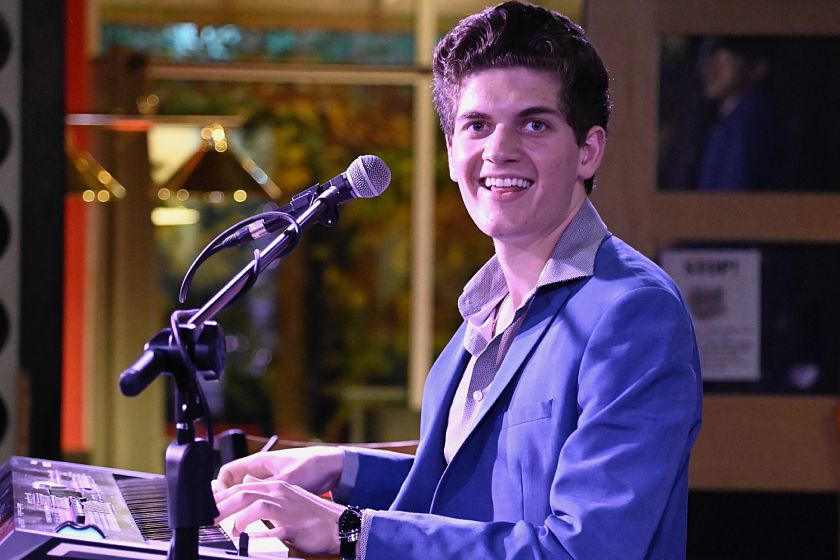 Ben Levin
Ben Levin
At only 19 years old, Ben Levin is already making his mark as a blues pianist, vocalist, and songwriter. Based in Cincinnati, OH, Ben has been playing 100 shows a year since he was 15 years old, embracing the authentic sound of his heroes such as Professor Longhair, Pinetop Perkins, Otis Spann, and Ray Charles. According to Bill Wilson from Reflections in Blue, "Ben Levin is GOOD…Learning at the feet of established masters and from the greatest recordings of all time; he has a deep love for the instrument and for the music."

Ben's fascination for blues piano began when he snuck a peek at his father watching the Ray Charles biopic "Ray" at age 6. Piano lessons with world-renowned Cincinnati-based blues/boogie pianist Ricky Nye led Ben into a passion that has not let up since. Ben's first festival appearance was for his local Cincy Blues Fest at age 13; by age 15 he was the full-time piano player in his father's band weekend band The Heaters.

At 17 Ben self-released his debut CD, Ben's Blues, which included four original songs sprinkled in with covers of Professor Longhair, Big Maceo, John Lee Hooker, and others. Ben's Blues was nominated for two Blues Blast Awards, best debut CD and Sean Costello "Rising Star" awards. The CD led to invitations for Ben to play at festivals and clubs in Europe, with Ben playing the prestigious LaRoquebrou (France) Boogie/Blues festival in summer 2017 and Beauforthuis Festival (Netherlands) and UK Boogie Fest in 2018. These tours also included performances at clubs in London and Amsterdam.

After winning the Dayton Blues Challenge, the Ben Levin Duo (Ben with Ricky Nye on drums) went on to place in the semi-finals of the International Blues Competition in Memphis in 2018. It was there that he met Bob Margolin, guitarist for the Muddy Waters band in the 1970s, and an enthusiastic promoter/mentor of young blues musicians. This meeting led to two sold out shows in Cincinnati (300 seats each) and the opportunity of a lifetime for Ben: an offer from Bob to play on Ben's next CD.

2019 has been a watershed year for Ben. His passion to spread the blues to audiences of all ages saw him organize, plan, and headline several festivals/shows. Among these were the International Blues Showcase in Blue Ash, Ohio, in which Ben assembled a band of young blues musicians from around the world, including guitarist Takuto Asano (22, Japan) and harmonica player Ben White (19, UK) and the Summer Blues and BBQ Festival in Newport, KY where he teamed up with 2019 IBC finalist Gabe Stillman and 2015 finalist Noah Wotherspoon. Ben also invited his young friend 11 year old Moses Mabarak to open the show, and 93 year old Philip Paul (legendary King Records drummer) made a guest appearance, making for a truly multi-generational blues show.

In July 2019 Ben's second CD Before Me was released by Vizztone Records to enthusiastic reviews, and the CD debuted in the top 50 blues CDs in a variety of radio-based charts around the world: Living Blues, Roots Music Report, Independent Blues Broadcasters Association, and Australian Blues and Roots. Ben's mentors and heroes Bob Margolin (guitar), Bob Corritore (harmonica) and Philip Paul (drums) contribute to the CD with an authenticity that only decades of playing and recording can bring.