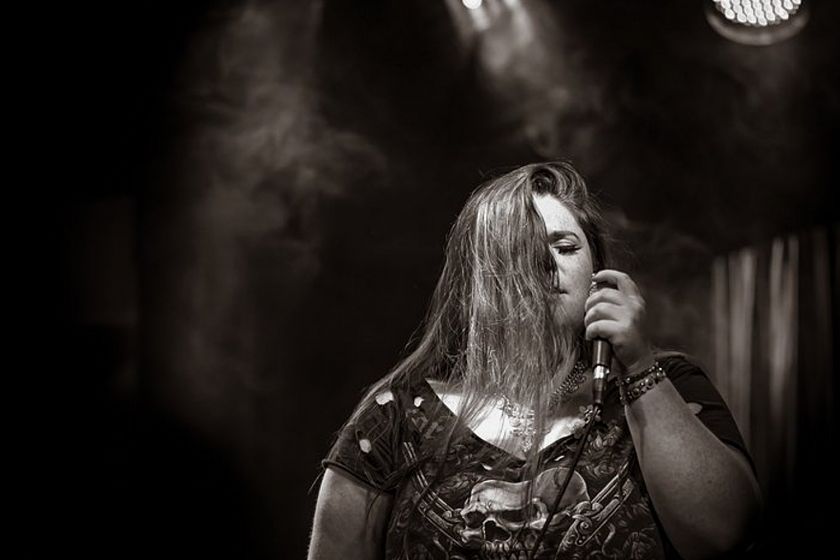 Alice Armstrong
Alice Armstrong
Who the F*ck is Alice?
A multi UK Blues Awards nominated singer-songwriter from the UK, Alice is known for her wide vocal range, unconventional lyrics, long red hair and enigmatic delivery, topped off with light-sensitivity glasses and an unrivalled love for chips.
'Really loving that vocal'
Craig Charles, BBC Radio 2
Audiences can expect to feel a full range of emotions as Alice slips effortlessly from powerful to fragile, from raw and haunting, to hilarious or heartbreaking.
After gaining a following fronting and writing for the Crossfire Blues Band with guitarist Marcus Praestgaard-Stevens, Alice has strutted many stages of the UK's biggest rhythm & blues festivals, completed a European tour and featured in both the 2020 and 2021 UK Blues Awards, singing alongside renowned musicians on a lockdown-cover of 'Soulshine' by the Allman Brothers and 'Let the Good Times Roll' by Louis Jordan.
Teaming up with the Stevie Watts Organ Trio to write the positively received album 'Mission to the Moon', they hit number 12 on the IBBA top played list for 2020 and earned a nomination at the 2021 UK Blues Awards for band of the year. This year, Alice is nominated for UK Blues awards Vocalist of the year.
Alice credits Ella Fitzgerald, Etta James, Aretha Franklin, Donnie Hathaway, Amy Winehouse, Peggy Lee and Dinah Washington to be her main musical influences, peppering her performances with her trademark sense of humour.
An ardent advocate of the Black Lives Matter, Body Positivity, LGBTQ+ and Feminist movements, Alice also uses her voice to fight for every person's right to exist in freedom, safety and equality.
Reviews:
'Armstrong delivers a soulful, immaculately phrased vocal… [She] shifts her tone from reflective to assertive… slinky and sultry… in the soulful singer stakes Alice Armstrong, I have to say, is a real find' - BluesEnthused.com
'Nice Pipes, Miss Armstrong' - Phill Jupitus
'Alice is THE best female vocalist in the UK at the moment: there are others with superb voices and charisma, but Alice has it by the bucket load' - Blues in Britain Magazine, 2019
'From deep and soulful to spine-tingling: add to that her sassy wit and Alice is the full package' - Blues in Britain Magazine, 2020
'Armstrong deserves special credit for the amazing range of her voice. She reminded me of a young Amy Winehouse.' - Blues Matters Magazine
''Prodigiously talented … Armstrong's voice set the hairs on the back of my neck at full attention – I cannot remember the last time I heard such a purity of tone and a depth of range' - Music-News.com
"Best album I've heard this year by a mile!" "It's an understated monster!" - Jason Elliott, Former Director of the Great British Rhythm & Blues Festival
"This album has to be my top pick of the year" - Paul Long, Chair of the IBBA
"Armstrong delivers a soulful, immaculately phrased vocal" - bluesenthused.com